Refer Other Dental Professionals Now
---
Join a Great Group with Your Peers & Earn Money While Having Fun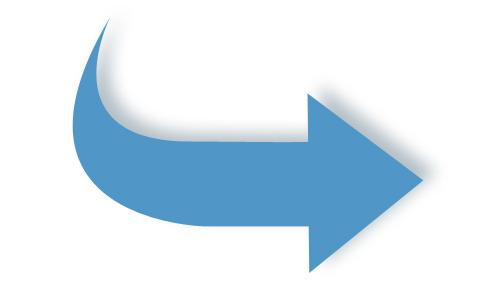 Triple Bristle is an oral care company founded in 2015 by Dr. Maxim Babiner, a dentist with a passion for making a change and a vision to create the perfect oral care product to clean both teeth and gums properly and efficiently. To read more about Dr. Babiner and the Triple Bristle Brand,

read Our Story.
What makes the Triple Bristle Toothbrush better?
The unique 3-sided brush heads were designed to brush all surfaces of your teeth and gum line at the same time while also using the proper 45 degree angle technique. Those features combined with sonic vibration make what we think is the ultimate toothbrush. This is a brush head for whiter teeth, healthy gums, fresh breath, and a brighter smile.

See it in Action

Oh, by the way, we hold a US Patent on our brush head.
How does the coupon for the free brush work?
Can I Refer Others & Earn Commission?
What tools do you have to help me promote
In-Office Patient Online Form
Earn 25% commission using our easy in-office online form. Simply fill out a short form with the patient's information and we send them an email with a special 10% coupon code, and a link to our products. Each patient who purchases earns you MONEY!
Triple Bristle Dental Professionals Facebook Group
You will also have access to our private group of Triple Bristle Certified Representatives on Facebook. We will show you how to best promote our products, discuss any problems you may have, network with other successful members and learn a lot of tips and tricks of how to make the most from your efforts.
Wholesale & Bulk Orders
For dental professionals wishing to earn even more, we have an online wholesale catalog where you can purchase our brush sets and brush head replacement heads at a discount to sell in your office.
What products are available to sell?
We offer a wide range of products which include the Triple Bristle Box Set (single brush and 1 set of brush heads), the Triple Bristle Sonic Duo (contains 2 brushes, one double charging base and 2 sets of brush heads), the Sonic Go (battery powered for travel, 1 set of brush heads), replacement brush heads and also Sonicare© replacement brush heads (fits most sonicare toothbrushes).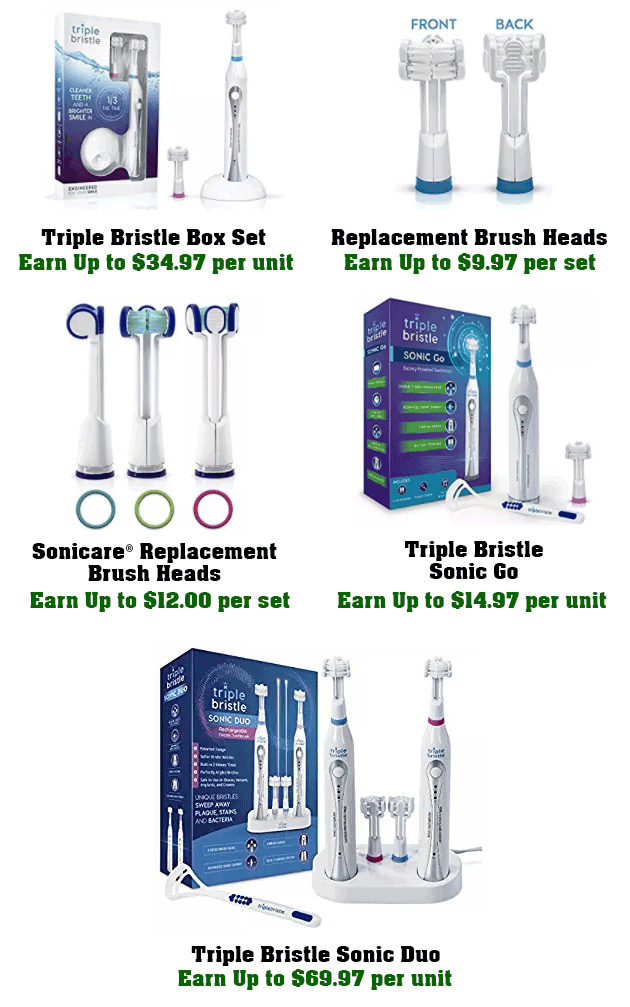 How much can I make via wholesale?
That is a tough number to estimate, but we can tell you the numbers you can earn per brush. If you sell in office, and wish to purchase wholesale, you can earn as much as $34.97 per single box set, as much as $69.97 per Sonic Duo set, as much as $14.97 per Sonic Go, as much as $9.97 per replacement brush head set and as much as $9.45 per Sonicare© replacement brush head set.
How much can I make using the in-office form?
If your patients would prefer to order from home, you can simple fill out an online form right in the office for them, and a special link will be sent to their email inbox with a special coupon for 10% off their entire order. Using this link, your patients can then purchase from the comfort of their own home, and you get credited 25% into your account. You also get credited for all re-orders from that patient for life.
How & when do I get paid?
You will receive a payment every 2 weeks once your account reaches just $50. You can be paid via PayPal or we can mail you a check, it's up to you.
To start helping Triple Bristle get our unique toothbrush into the hands of people that want to improve their overall health, and join other like minded professionals, fill out the form on this page and become a Triple Bristle Brand Representative!